Alfred Nobel was born on 21-10-1833 in Stockholm, Sweden. His father was an engineer as well as a gifted inventor. Unfortunately, his business were not favorable and not long after Alfred was born, he was forced to resign.
Determined to save his family, his wife and their three sons moved to Russia to live with the provision of equipment for the Russian army. Work becomes extremely favorable, and thus, the boy Alfred enjoyed the best education from private tutors that teach parents about the rent.
Childhood Portrait Nobel
As a child, Alfred Nobel 3 specialized learning about science, literature and foreign languages. He can read and write fluent in multiple languages as their mother tongue is Swedish, Russian, English, French, German at 17. Later, his father decided for him to study engineering and sent him to France, where currently the world leader in the field of mechanical engineering at the time, to attend.
He studied chemical engineering. In the process of studying, he met a young Italian chemist Ascanio Sobrero named, he has invented a volatile explosive called nitroglycerine. Sobrero introduced this matter with the Nobel, and he understood clearly explain if this substance will produce an interesting research topic, but also will be a big threat if you use it in practice.
However, Alfred do not think so and he began conducting experiments with this substance. His experiments led to the creation of a substance has tremendous influence to the military and civilian applications of the latter: Explosives.
Back to Sweden
After completing studies in Paris, he returned to Russia. Here, he explained to his father about the explosives that you have studied Italian. Together they make experiments and explore the effects of this substance in the hope of making something with commercially. In the course of conducting experiments, they encountered many serious incidents, especially the death of his youngest brother, Emil.
Alfred Nobel's Laboratory
Not long after the tragic death of his brother, two brothers both Nobel family stay in Russia to continue developing the business.
Father, mother and Alfred returned to Sweden to live.
Officially invented dynamite
Learned the business from his father knowledge, Alfred Nobel quickly apply for a patent for dynamite and develop a business enterprise specializing in products. Foreign troops are eager to use this new weapon, but they also face many inconveniences because the explosives must be placed correctly at the desired location and then use fire to detonating cord. Fortunately, only a few years, improvements have been made and Alfred quickly became a wealthy merchant.
Invented the explosive
demand for high-explosive increase constantly. It is used in many areas such as quarrying, excavation, construction of tunnels and break rocks to open the highway and rail service for traffic and transport of heavy goods, as well as other necessities .
The favorable business help Alfred opened 90 factories in 20 countries explosives in the world. Before he died at his home in San Remo, north of Italy, he has amassed an incredible fortune. He was not married and spent his whole life doing chemistry experiments. He died peacefully on January 10-12-1896.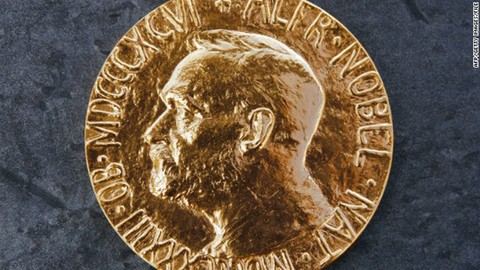 In his testament he hopes to have a prize is awarded to people who have made important contributions in the fields of Physics, Chemistry and Pharmacy.
In addition, he also wants to award in the field of Literature and Peace for individuals who have contributed in the development of peaceful relations between nations.
The first Nobel Prize was awarded in 1901, five years after Nobel's death.
Nobel Prize ceremony
Nobel Prize ceremony was held in Sweden on November 10-12 every year, on the anniversary of his death.
King Sweden will be awarded.
Recipients of the award will receive a medal engraved with a portrait of Alfred Nobel, a certificate and a sum of money equal to the Swedish kronor.
Nobel Peace Prize was also awarded on the same day but is in Oslo, Norway.
Though not included in the original list but later, the Nobel Prize in Economics was added to the list of award.
The award is not given only during the second world war when the conflict of nations peaked.
Nobel laureate Lawrence Bragg is the youngest - 25 years old when he received the Nobel Prize in Physics in 1915. The oldest laureate is Leonid Hurwicz, Nobel laureate Beijing